The Importance of Modern State-of-the-art Dental Equipment in Our Practice
Posted by premier dental on Jun 23 2021, 09:47 PM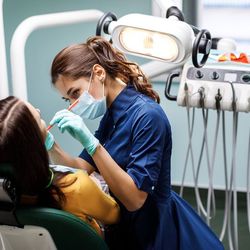 With the rapid increase in technological advancement in every field possible, dentistry is also making efforts to provide faster, more comfortable, and safer experiences to patients. It is now principal indeed to satisfy the patients' requirements using the updated technology in the market.

Types of Dental Technology
The most innovative and advanced technology is used to serve the patients at our clinics. This ensures that the machine looks into every nook and corner of the mouth with the utmost precision to provide the best assistance to you.
We have provided a list of the updated technology and types of equipment at work in our clinics. These equipment help us cater to your need in a fulfilling way.
Water Filtration

In order to maintain your optimal health and safety, an installed water filtration device is a must. This ensures that no water-borne contaminants enter your mouth. Hence, delivering the best quality of results.
Laser Technology

To treat gum diseases quickly and painlessly, we have procured the best laser technology. The usage of gels and glasses ensures that no beam of light touches the unwanted areas. There are many advantages of laser therapy:
Minimal or no anesthesia- you can see all the actions without feeling numb.
Little or no pain- uncomplicated and pain-free
Minimal bleeding- no cuts and stitches required
Less swelling- easy-peasy method
Little to no noise- as it is just a beam of light, no disturbance is there.
The lasers used in dental therapy have been approved and tested. They are completely safe for adults and children. Although lasers still cause a little pain in comparison to older technologies, patients face minimal pain. 
Digital X-Rays
Digital X-rays are one of the most sought after technologies in dentistry. The reduction of X-rays has made it user friendly and simple to access. Other benefits of digital x-rays are:
The images come out much more quickly than traditional x-rays.
As the images are digital, they can be enlarged, lightened, or darkened to see the affected area properly.
The images produced are easily reproducible and transportable. This makes it hassle-free - no need to carry big envelopes of reports. 
Benefits of the modern state-of-the-art dental equipment in dental practice
These are important to ensure: 

Faster and more enjoyable appointments
Better prevention from unwanted diseases.
Less trouble & fleeter healing
Healthfuller for you
Desired outcomes
Longer-lasting results and fewer appointments